As the seasons change, so should the décor of your luxury home. Transitioning from the vibrancy of summer décor to the cozy, warm aesthetics of fall is a revitalizing way to reflect the changing seasons in your living space. At J. Mozeley Interior Design, we understand that luxury homes require a refined touch to make this change seamless and stylish.
Summer aesthetics typically involve light fabrics, bright colors, and a general airiness, while fall brings in warmer hues, textured materials, and nature-inspired elements. By gradually transitioning between these two distinct aesthetics, you can ensure a cohesive and luxurious appearance throughout your home.
Start with Color
During summer, bright blues, sunny yellows, and fresh greens are commonly used in home décor. As we transition to fall, earth-toned hues such as deep oranges, rich browns, and muted golds become more popular. To incorporate the fall palette, replace summer-themed accents with pieces that reflect these colors. This simple switch can create a sense of harmony and luxury in every room.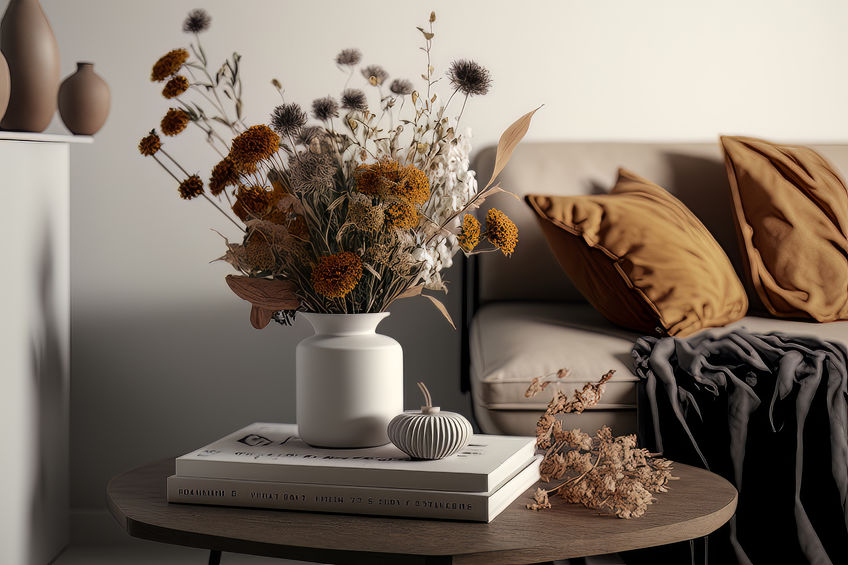 Update Textiles
Updating your textiles to maintain a cozy atmosphere is important as the weather begins to cool down. Swap out light, airy fabrics for more substantial and textured ones like velvet cushions, woolen throws, and heavier curtains, adding a touch of opulence to your space. To enhance the fall theme, opt for textiles that feature a mix of textures and patterns, such as paisley prints or intricate embroidery. This will add depth and sophistication to your surroundings.
Introduce Natural Elements
Summer décor often involves floral motifs and fresh flowers. Transitioning to fall means incorporating more seasonal natural elements like leaves, pumpkins, and gourds. These can be elegantly arranged in vases or as table centerpieces, reflecting your desired luxury aesthetic. Choose elements that have a rich and vibrant color, but also consider adding some dried nature elements, which can add a rustic yet elegant touch.
Rearrange and Declutter
As the seasons change, it's a great opportunity to tidy up and simplify your surroundings. You can create a luxurious and sophisticated atmosphere by keeping your space organized and clutter-free. One idea is to rearrange your furniture to make your space feel more intimate during the colder months. For instance, bringing your seating closer together or positioning it near the fireplace can create a warm and inviting ambiance.
Add Festive Décor
Adding subtle festive decorations to your home can create a warm and celebratory atmosphere. You can opt for tasteful fall-themed décor such as wreaths, garlands, or candle holders. It's important to remember that less is more when maintaining a luxurious aesthetic. To achieve this, choose décor that complements your home's existing color palette and design elements.
Update Outdoor Spaces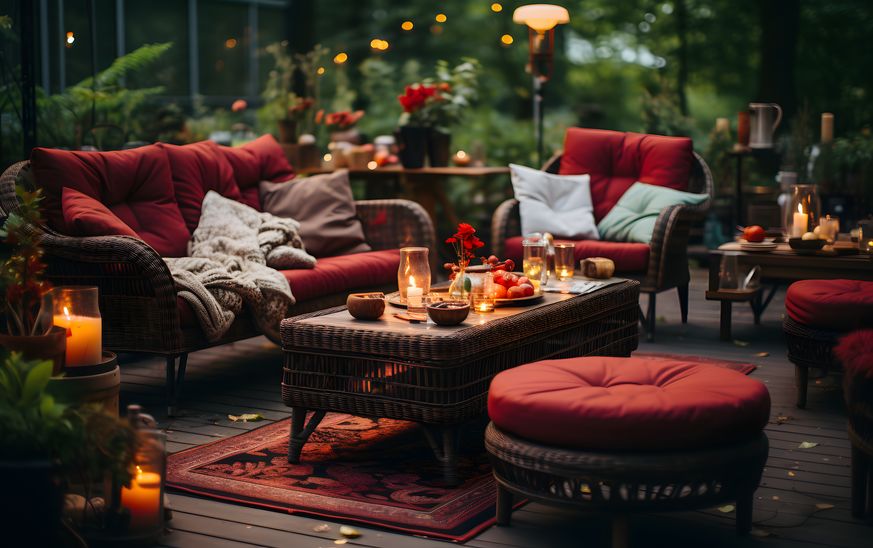 Remember to spruce up your outdoor areas for fall! Replace your vibrant summer cushions with more subdued ones, introduce outdoor heaters, and include autumn-inspired decorations to achieve a warm and welcoming outdoor space. You can also add some seasonal plants or a festive outdoor rug to bring everything together.
When it comes to luxury interior design, every detail matters. Investing in professional interior design and decorating services can ensure a seamless transition from summer to fall.
Schedule a free 30-minute phone consultation with the design experts at J. Mozeley Interior Design today at (704)966-1223 and browse our services and portfolio online for inspiration for your next design project!