Designing the perfect outdoor patio for your home is not a one-day venture; it's an in-depth process that requires a keen eye for aesthetics, a practical understanding of space, and a knack for creating comfort and functionality. Whether you're looking to create a peaceful oasis, a lively entertainment hub, or a serene dining spot, there are a few things you need to consider before you begin.
Here are a few tips to guide you in designing the perfect outdoor patio!
Choose the Right Furniture
Your goal is to extend your interior design to the outside seamlessly. Choosing the appropriate furniture is vital when creating a comfortable and welcoming patio that fits the style of your home. Think about how you intend to use the space. If it will be used for dining, investing in high-quality tables and chairs is a good idea. Alternatively, if it's for relaxation, consider getting loungers, hammocks, or comfortable outdoor sofas. Lastly, don't forget to opt for durable, weather-resistant materials that can endure outdoor weather conditions.
Consider Lighting Options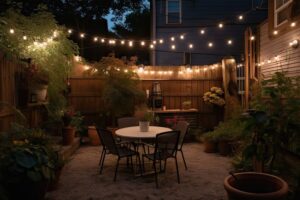 Next, consider your options for outdoor lighting. The right lighting can transform your patio from a daytime retreat to an enchanting evening escape. Solar-powered lanterns, string lights, and LED candles can create a warm and inviting ambiance.
Pro Tip: Don't forget to include task lighting for areas where you'll be grilling or reading!
Incorporate Nature
Incorporating nature is a must to achieve a harmonious balance in your patio design. You could plant a beautiful garden around the patio, hang flower baskets, or add potted plants. Additionally, a water feature like a small pond or fountain can add a touch of tranquility to your outdoor space, adding a sense of peace and relaxation.
Plan for Weather
Don't forget to prepare for changes in weather when planning your patio. You can add a retractable awning for shade on hot days, a fire pit for chilly nights, or a screened-in area to protect against bugs and rain. By taking the weather into account, you can guarantee that your patio will be a comfortable space to enjoy all year round.
Designing the perfect outdoor patio takes time, creativity, and a bit of planning, but with these tips, you can create a space that is not only beautiful but also functional and inviting!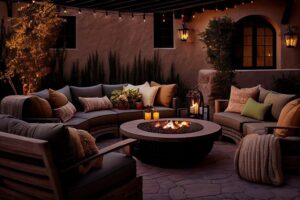 At J. Mozeley Interior Design, we work with homeowners to perform full redesigns of their troubled spaces. Whether you want to modernize your outdated kitchen, spruce up your living room to match your new aesthetic, or upgrade your patio or porch space for the upcoming summer season, our experienced team works with you to bring your design dreams to life.
Browse our interior design and decorating services online and fill out our contact form to begin planning your next home design project!